Eat Healthy with Ropot - The Smart Pot!
How Ropot controls cooking fume; Saves time; Uses less oil; Non-stick inner pot gets cleaned easily
Controls smoke:
Ropot's sensors and micro-chips eliminate cooking fume caused by many common cooking oils by keeping temperatures below 428F (220C). And, Ropot's innovative filtering system helps keep oil clean.
Saves time: Ropot can automatically cook dishes for you in a quick and efficient manner with both upper and lower heating elements.
Uses less oil:
Ropot's durable, triple-layer, non-stick, inner pot, combined with its stir functions, allows you to use up to 50% less oil for healthier meals.
Non-stick inner pot:
Ropot's durable, triple-layer, non-stick inner pot is free from PFOA (Perfluorooctanoic acid) for your health and safety. It can also be cleaned very easily after cooking.
Videos Below: (Two rows, from Left to Right, )
Row 1: Ropot Introduction; Control Panel; Asparagus; Salmon
Row 2: Steak; Chicken+Vegetables; Vegetables; Snack-Walnuts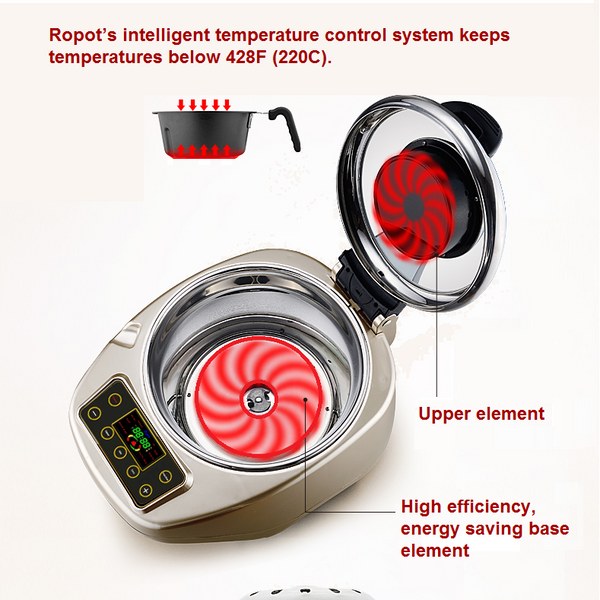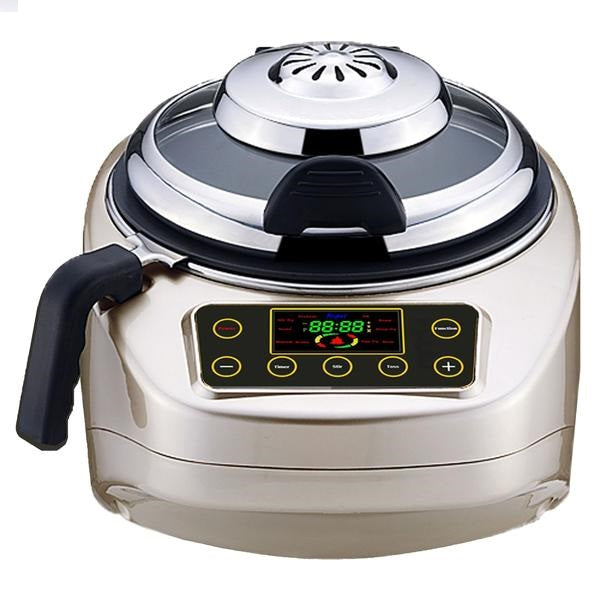 Ropot - The Smart Pot - Robot Cooker
Revolutionize your cooking with ROPOT's 8 convenient programmed functions:
•Stir-fry • Pan-fry • Deep-fry • Sauté
• Braise/Steam •Stew •Roast • Manual
Plus a special Toss function for additional seasoning upon completion, making your cooking from great to perfect!
Simple Steps:
Assemble your ingredients, add to Ropot, choose a cooking function, then you can relax while Ropot cooks for you! The built-in paddle stirs your own fresh, healthy ingredients and keeps foods moving at just the right speed;
the upper and lower elements cook foods to perfection;
You will never have to worry about over-cooking;
Oh, did we mention the generous, 4-inch deep by 10-inch diameter, triple-layer, non-stick pot that makes clean-up as easy as pie?
Choose your favourite Color Ropot